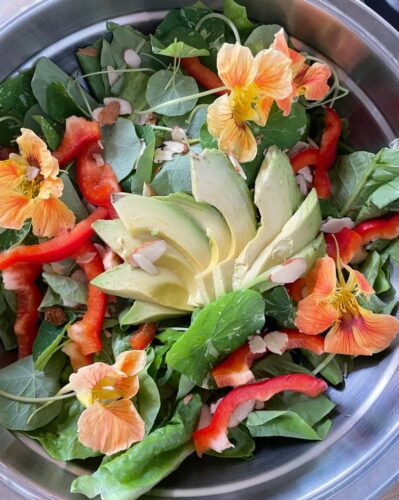 Welcome to the
3-Week Wellness Boost
I'm so excited you're here! This time together will be spent focusing on making daily health practices work for you and using food as medicine to support your digestive function and cellular needs in order to thrive in your body.
Take advantage of all the materials provided to get the most out of the three weeks we have together. Three weeks is a short time to implement everything, so pick and choose what works best for your schedule. You will have all the information to keep so that you can continue to implement and try the recipes and practices even after this program is over. I want this to be a resource you can use over and over or ideally incorporate into your daily lifestyle to get the best results.
---
Life is a matter of choices, and every choice you make makes you.
-John Maxwell
You will find everything you need for the Wellness Boost on this page. Begin by downloading the materials and reading through them.
Start getting in a mindset of intention. Know that focusing on taking care of yourself for a couple weeks is going to make a big difference.
Before Sunday, download the materials below. In the meal prep video, I show you how to prep overnight oats and chia pudding breakfast jars, salad in a jar and miso soup jar, a chickpea salad and a sheet pan meal all in under an hour. I like using jars for prepping and packing foods, making them easy to take a long to the office or have portioned and ready to pour out after a long day. I hope you find it helpful.
The recipe guides can be done in any order, I just wanted to break them down into smaller packets. You can print them and use them as a recipe book with the planning pages or download them and save them in a file folder or app for easy access. I like to save mine on my phone in the Books app. Find a way to make it easy for you to access.
Download the Begin Here Survey >>
Download the Wellness Boost Guidebook >>
Watch the Meal Prep Video >>
Download the Daily Routine Chart >>
Download the Week One Recipe Packet >>
Download the Week Two Recipe Guide>>
Download the Week Three Recipe Guide>>
Download the Daily Journal >>
Join the private Facebook Group >>
Download the BONUS anti-inflammatory Smoothies >>
Download Basic Plant Milk Recipes >>
On Monday, Wednesday and Thursday morning at 8:00 PT, join me on Zoom:
Join Zoom Meeting
HERE
Meeting ID: 553 660 8104
Passcode: Veggies